Tacoma Habitat
From $8,600
Continuing with its tradition of designing purposeful high quality equipment for overland travel, AT Overland Equipment unveils the all new Habitat truck topper. The goal of the new pop up camper design is to provide a lightweight yet robust camping platform for today's' fuel efficient trucks while still leaving room for the individual owners to customize it to their specific needs. The Habitat addresses the needs for a reliable opening mechanism, built in awning and high quality fabrics not currently offered in the market space.
Filling the void between the traditional truck topper, slide in camper and roof top tent; the Habitat is ready for any backcountry excursion. AT Habitat can be easily deployed by one person to reveal a cavernous and functional interior. The design allows for full stand up room in the bed of the truck under the protective canopy of the all season tent. The cantilever sleeping platform is stoutly supported by 6061 aluminum rods, features a comfortable dense foam mattress and supports 600 lbs.
The shell is made from lightweight aluminum composites and weighs in at a scant 340 lbs. Opening and closing of the top is facilitated by robust gas springs. The durable Teflon impregnated ripstop nylon Habitat tent is made exclusively for AT by Nemo Equipment. The 15 foot long tent will protect you from the elements while the Habitat's self-supporting sleeping area for two will assure you a sound night's sleep. Entering the Habitat through the tailgate reveals 7 feet of headroom while standing in the truck bed.  The deployed platform doubles as a protective awning at the rear of the truck. Truck camping has just been elevated! Available for the following trucks:
5' & 6' bed Tacoma, 1995 to present. (Base price $8,600)
5′ & 6′ bed Frontiers (Base price $8,600)
5′ & 6″ bed Colorado and Canyon (Base price $8,600)
5.5′ bed Tundra, Ram 1500 & 2500, Ford F-150 and Raptor (Base price $8,800)
6.5′ bed Tundra, Ram 1500 & 2500 and Ford F-150 (Base price $8,800)
Built to order only, average lead time 12 weeks.  Available directly from O'Neil Overland Mercantile. The Habitat is sought after so please call for current lead times as they often change as we approach hunting and camping season.
Dimensions closed
32.75″ tall with roof Bars, 32.25″ Tall with Track only (add 2″ for Full-size trucks)
53″ Wide at top
93.5″ Long at top
Tacoma Habitat length at base: 5′ = 64.375 . 6′ = 76.375″
Tacoma Habitat width at base: 64″
Dimensions open
87″ x 48″ x 2″ Hi-Density Foam Mattress with washable cover
92″ Standing room at Rear, 81″ Standing room at front (add 2″ for Full Size Trucks)
186.5″ Long when deployed
51″ of headroom over bed area
Roof Overhang for 5′ & 6′ Tacoma Trucks

20″ on 6′ bed, 32″ on 5′ bed
23″ from top of truck bed to underside of overhang
Materials Specifications List
Insulated aluminum composite panels, Nemo Equipment Habitat Tent: Teflon impregnated ripstop nylon
Stainless Steel hardware
.060″ 5052 CNC formed aluminum
Base weight: 340 lbs
Roof weight capacity: 350 lbs
Cantilever Bed loading capacity" 600 lbs
Easy 1 minute deployment and stowage
Sleeps 2 standard
Built in mattress
Clothing gear loft and 4 side pockets in tent
Insulated sleeping platform and shell walls
Built in awning by design covering entrance area
All aluminum composite construction ruggedly designed for 4×4 travel
All season tent, no rain fly required
Standard color: Clear coated aluminum
Cab slider window $360
Roof Rack (3 bars) on adjustable track $804
Side slider windows (each) $410
Side hatch doors 14″ x 42″ (each) $550
Rear liftgate insert window $290
Interior lighting (2 LEDs: white, red or amber) $250
Interior lighting (single switched 9 LED, white) $170
12V power system (1 x 12V power port, 1 x double USB, 2 x LED lights) $375
Interior carpeting $350
Habitat side awning $439
Awning room enclosures (in development, pricing TBD)
Interior cabinetry (in development, pricing TBD)
Drop in panels to sleep 3 or 4 persons $360-$720
Forced air heating $1,693 (can vary depending upon vehicle)
Color match to vehicle $1,300+ (can vary depending upon color)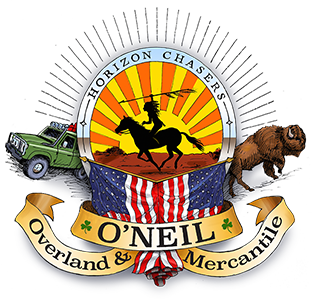 VISIT OUR SHOWROOM
O'Neil Overland & Mercantile
212-A Marray Drive
Chamblee, GA 30341