The Tembo Tusk Skottle Is, by far, the handiest, most versitile cook top that you can have in the backcountry or on your next weekend excursion. Easy set up and minimal parts and pieces make Skottle a go too for camp cooking. See for yourself. There are thousands of pictures and videos of the Skottle cooking up in all kinds of climbs and environs.
A leader in expedition and backcountry cooking Cook Partner offers a variety of stoves for camp cooking. We've featured our best sellers in our PDF pricing sheet. If you don't see what you're looking for, just call! We're happy to recommend product options that best suit your backcountry lifestyle.
The kitchen is fitted into a Pelican Case or an Alu Box (there is an upcharge if the Alu Box is selected). You can select which one you want. The kitchen consists of a two burner Partner Steel Stove on a slide, dividers and a cutting board. The Door on the box opens downwards and is secured with lanyards. The box is design to fit either on a swing away or to be modified to hang off the side of a vehicle. This product is often sold with the swingaway, a windscreen for the stove, a propane cylinder and a propane bracket.
AT Trailgater Table for JK
The Trailgater table is made from 14 gauge (0.075″) food-grade Stainless Steel, the backsplash is 0.120″ Aluminum, both are CAD designed, laser cut, CNC bent, TIG (table) & MIG (Backsplash) welded and deburred. The upper strut mounts are CNC machined and are also welded to the backsplash. Max weight capacity is set at 40lbs.
The cutting board in made from bamboo and is stowed under the table. When needed, it simply slides out to the right or to the left to create an additional 14″ wide working surface. The table is 25″ x 13″ and the slide out cutting board is 10″ x 14″ for a combined 465 square inches of surface area.
When not in use the table folds up and only utilizes 1.8" of depth from the tailgate. The cutting board conveniently slides under the table and the assembly folds up and is held in place with a single rattle free securing pin.
Fits Wrangler 2007-2015, JK & JK Unlimited tailgates.
High quality steel frame with changeable/replace-able top. Designed to be easily ganged side to side or end to end, these tables are light, easy to break down and conveniently stow in their flat padded case. A great option for vehicles with limited space. No more bent and broken legs or difficult to connect surfaces. Remember, long after the sweetness of price is gone…. Quality prevails.
AT Cook Partner Stove for JK
The Partner Steel JK Stove exclusively available from AT has been made specifically to fit the combo slide and has the controls built into the end of the unit for ease of access. The JK Stove may easily be removed from the combo slide for use on a picnic table or other location.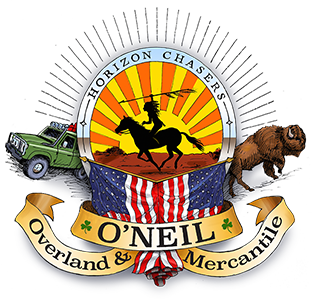 VISIT OUR SHOWROOM
O'Neil Overland & Mercantile
212-A Marray Drive
Chamblee, GA 30341