Roof Top Tents & Racks
Remember, Long after the sweetness of price is gone, quality prevails.
There are good reasons why Eezi-Awn is viewed as one of top manufacturers of backcountry equipment.
Since its inception over three decades ago the name Eezi-Awn has long been synonymous with quality roof tents, retractable awnings, and roof racks and accessories. Eezi-Awns dedication quality is evident in all the equipment they produce and export around the world. Eezi-Awn is beyond comparison.
Remember that long after the sweetness of price is gone – Quality prevails.
The world renowned Eezi Awn range offers the highest quality Roof Tents, Roof Racks, Trailer Tents, Awnings and more. There are many customizable options so if you don't see what you are looking for, just ask!
K-9 Roof Racks
Designed to preform, K-9 roof rack systems are some of the strongest, lightest most aerodynamic racks on the expedition rack market. Our PDF price sheet presents our best sellers. If you don't see what you're looking for call us! We have custom rack options as well.
Roof Top Tents
Home is where you park it! We have roof top tent options for almost any vehicle or trailer. Flip pack and clam shell options allow for versatile quality backcountry accommodations. With decades of backcountry living under their belts Eezi-Awn delivers the highest quality expedition tents in the industry.
See our PDF pricing sheet to view our best sellers. Don't see what you are looking for? Call us! We don't just sell them, we own them. We're happy to share our experience of backcountry living in these classically designed tents.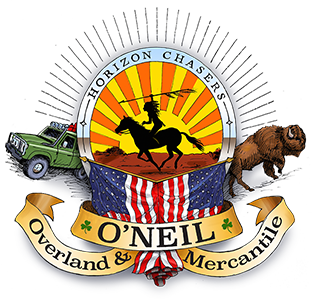 VISIT OUR SHOWROOM
O'Neil Overland & Mercantile
212-A Marray Drive
Chamblee, GA 30341