Where is the closest Four Wheel Campers showroom to me?
We have currently have 10 showroom locations throughout the United States, and several showroom locations Internationally.
Can I have a camper shipped to me?
Now that we have a larger dealer network available to our customers, we no longer have the ability to make individual camper deliveries to your local town like we did many years ago. If you are located near any of our dealers, we prefer you work directly with your closest dealer to arrange ordering and taking delivery of your new camper. Please call or e-mail us if you are in a location where working with one of our dealers is not an option and we will see if there are any other options available.
What is the campers biggest benefit?
Many advantages are evident throughout the Four Wheel Camper design, like the welded aluminum frame, low center of gravity & profile, and the lightest weight in the industry. However, the greatest benefit is the flexible frame construction that allows the frame to move with the torque generated by the bed of the truck, and managing the weight over the center of the axle, eliminating top heavy sway.
What size truck do I need for a Four Wheel Camper?
We build campers for most every size truck on the market today. It really doesn't matter if you have a big truck, a small truck, a long bed, or a short bed, we probably make a camper for it. We even have the new Swift Model to fit the mid/mini sized quad cab trucks, like the Toyota Tacoma Crew Cab, Nissan Frontier Crew Cab, Dodge Dakota Quad Cab, etc. Four Wheel Campers are built to fit with excellent weight and balance characteristics, as well as low profile. Six or eight cylinder engines provide the best performance, and 2 or 4 wheel drive depending on your driving conditions, payload needs, or height restrictions.
Are the prices negotiable?
No, your opportunity to have a camper custom built for your needs with the floor plan, the options, and colors you like, provides you the lowest possible price. We do not negotiate prices. Most of our customers really don't want us or our dealers to engage in the typical RV sales games & haggling tactics. We want to provide you the best possible service, the most knowledgeable sales staff and dealers, but without the high pressure sales environment. It is very important that we are building you the best possible camper at the best possible price.
Do you offer custom work?
Not really. The design of the Four Wheel Camper has a 40+ year history of proven success. What we build, works. If you have something special in mind, please feel free to run it by us or ask the dealer you are working with. We might say no, but sometimes we can change small things to better suit your needs. All of the common camper options are listed on our webpage, price lists, and specification sheets, but we do have a few special order items available on request. By not building each camper with a custom "one off" design allows us to fine tune and provide a very consistent, well built product to our customers. Before offering or introducing new camper options, we like to spend a little extra time testing new designs before releasing them as available options.
How is the camper attached to my truck?
Typically we install 4 small, forged, zinc coated eye bolts in your truck bed in front of and behind the wheel well humps, with reinforcement backing plates hidden underneath the truck bed. The base of the camper is manufactured with stainless steel attachment brackets and interior access ports, allowing the use of four (4) aluminum turnbuckles to hold the camper firmly in place. This makes for a very strong installation and a clean look on the outside of the camper (no chains or external camper tie downs hanging on the outside of your truck & camper). *Note: Our Swift Model is usually required to be bolted onto the truck bed or installed with the use of the traditional external turn buckles (ask your representative for slight camper installation pricing differences between the different methods).
How do I raise or lower my camper roof?
Our patented "Easy Lift" roof system requires a simple push on each end of the roof that will lock the folding lift panels past center vertically to hold the lightweight aluminum roof securely in place. Most customers will enter the camper through the camper door, raise the rear portion of the camper roof first, and then move forward to raise & secure the front portion of the camper roof. We have an available option to add Gas Strut Roof Lift Assists to your new camper if you plan on raising the camper roof with gear on the top, or if you simply need a little extra assistance to help ease raising & lowering the roof.
How much weight will the roof hold?
The lightweight aluminum roof will hold 1,000 pounds of evenly distributed weight in the raised position (example: snow load of 1000 lbs.). If you plan to carry luggage, coolers, kayaks, canoes, etc. on the roof, we usually recommend keeping the weight to approx. 100 lbs. (+ or -). The roof has a very strong design, but does have some basic limitations. We offer an aluminum roof rack and also Yakima roof racks for customers that want to carry larger items on the roof that might not fit inside the camper while they are traveling.
Can I keep my tailgate on with the camper installed?
No, our camper design does not allow the tailgate to close after the camper is installed. You can leave the tailgate on the truck if you would like, but it will not close when the camper is on. Many of our customers find is easier to get in & out of the camper without the tailgate mounted on the truck. Removing the tail gate will also give you easier access to the spare tire release hole if you were to get a flat tire while traveling with your camper.
Can I put a long bed camper on my short bed truck?
Sometimes, but it is not common these days. Customers that purchase a long bed camper and have it installed on a short bed truck will need to leave the tailgate on their truck and in the down (lowered) position. In this case, our camper design does not really interfere with towing trailers, but having your tailgate down might decrease your turning ability or require you to get a hitch extension so your trailer does not hit your tailgate. When putting a long bed camper on the short bed 1/2 ton trucks, customers will need to get Over Load Springs or Air Bags installed (rear suspension upgrade). It is not always the extra camper weight that requires the suspension upgrade, but more importantly where you are putting the weight (too far behind the rear axle). For the 3/4 ton and 1 ton trucks, most customers do not need any type of suspension upgrade to put a long bed camper on a short bed truck.
Do I have to remove my plastic bed liner?
Yes, we do require our customers to remove the basic "one piece" plastic bed liners (if your truck has one). Removal is very simple and usually requires no tools. Our unique design of attaching the camper to the inside of the truck bed with eye bolts and turnbuckles creates problems when a "one piece" plastic bed liner is present. A plastic liner would need to be cut to install the eye bolts, loading & unloading of the camper is much more difficult with a plastic liner in place, and the compressibility / slipperiness of the one piece plastic bed liners can cause the camper to shift around in the truck bed while traveling. If a bed liner is a must, we recommend using either a very thin rubber bed mat or a spray-in bed liner. Having either a thin rubber bed mat or the spray-on bed liner will also help to better keep the camper securely in place while traveling on rough roads. If your truck has plastic bed rail covers, those can be left in place. The camper will not sit on or touch the bed rails of your truck. For the most part, the only portion of the camper touching your truck bed will be the floor of the camper.
How long does it take to get my camper once I've placed the order?
Typically we can get a new camper built in 12+ weeks from the date you place your order, but production times do vary depending on the time of year. We are really busy in the early Spring through the Summer of each year. It is always best to plan ahead and get your new camper on order approx. 3 months before you will actually need it. Feel free to call us if you would like to know what our current production times are. If you can order your new camper in the Fall or the Winter, that is ideal for our production team because it helps to steady out the production flow throughout the year. But anytime of the year is a good time to order a Four Wheel Camper!
What is the "Thermal Pack" option?
In extreme cold or hot weather conditions, the side liner (soft pop-up portion of the camper) can be outfitted with the optional THERMAL PACK insulating system, which velcros in place around the soft pop-up interior walls of the camper. This is constructed of a 100% polypropylene nonwoven fabric (olefin fiber) and helps to create a dead air space to keep outside elements from transferring to the inside of the camper. It works well for controlling both cold & hot weather and can be left in place all year around. The camper roof will still go up and down with the Thermal Pack installed.
Is there a built in toilet option available for my camper?
Yes, we do offer a built in Cassette Toilet option for the Fleet, Hawk, & Grandby Model campers with the front dinette seating floor plan. These same models & floor plans can also have an Inside Shower feature added to the camper if that is something you are interested in.
Does the camper work well in cold weather?
Yes, a Four Wheel Pop-up Camper is designed to provide maximum comfort on or off road, and in most all climates. An available 12,000 BTU forced air furnace w/ digital thermostat and the Thermal Pack option will enable our customers to efficiently and comfortably camp at really cold temperatures. From approx. 1972 – 1989 our factory was located in Colorado, so we do have some cold weather experience. Since the very early days, our campers have been designed so that our customers have the ability to use the camper in all types of climates, including cold Winter conditions.
Does Four Wheel Campers make an empty shell model?
Yes, most all of our camper models are also available as an "Empty Shell Model" (except the flat bed models). With this design, the interior of the camper is finished off with the basic items like linoleum flooring, carpeted side steps, small storage compartments, interior walls, lights, windows, and the queen cabover bed with mattress. From there, we do offer several other interior & exterior options for customers to choose from to better equip the camper to meet their needs. This allows our customers to get a simple, light weight, more affordable camper, but at the same time allowing the owner the opportunity to create and build their own interior layout on their own at a later date (if they choose to). For more specific information on our Shell Models, please check out the "Shell Model Page".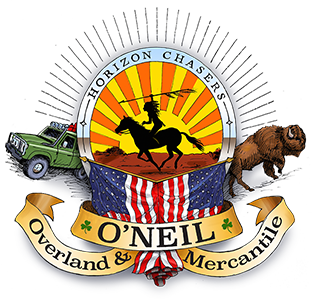 VISIT OUR SHOWROOM
O'Neil Overland & Mercantile
212-A Marray Drive
Chamblee, GA 30341